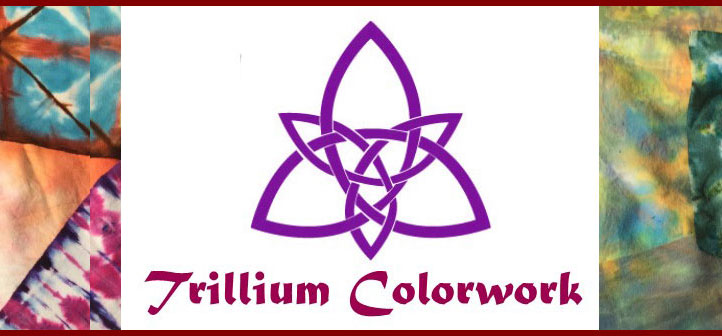 Trillium Colorwork is a mindfulness art program that lets you explore Art as Meditation. It was born from a love of color, nature and the joy of creating with color.
I grew up in an extended family of Vermont farmers, spending endless hours on those farms and in the presence of people who knew the land, how to work with their hands, who wasted nothing and gave much. My grandmother and her sisters shared their love of making practical things, reusing resources they had—quilts, hooked and braided rugs, spinning, knitting, weaving. They let me rip and cut and sort, all the while teaching me the value of handmade resourcefulness. Quilts kept you warm, rugs kept the drafts out and your feet warm on a cold morning and brought beauty and color into the home. The farms were self sufficient; they put food by for winter, ate fresh whole foods year round, cared for the land and the livestock and were completely in tune with the natural world they depended on. In that, I found my first experiences of what I have now come to know as Mindfulness.
I had been gently taught how to focus and find joy in the meditative quality of doing the mundane, the simple acts of living. I doubt my "teachers" were aware they were practicing Meditation as they did their daily tasks, but my awareness in the mostly silent cutting, ripping, hooking, gathering, defined that inner peace found in my Meditation practice.
Meditation is something that came naturally as I did Art as a youth and when I started meditating as an adult, I recognized that same quality of experience I had doing tasks with my aunts and grandmother on the farms. Now, getting into the dye pots to make the right color for a tomato or carrot is as much fun as seeing how it turns out hooked. Finding a trillium in the woods, or a flower I can't identify and looking it up, designing a rug or stained glass piece by taking those colors and simplifying the shapes to create a thing of beauty is pure joy! 
Zentangle® is wonderful for anyone who has difficulty sitting in Meditation. This is true of so many people. Of course, that is why it is call the "practice" of Meditation. You have to practice. So, let's consider Zentangle® and other meditative Art forms as a way of getting started on a mindfulness path of practicing Meditation.
I read in Lion's Roar an article that describes knitting as a mindfulness practice. It is repetitive, it takes focus and concentration and you have to pay attention to knitting. You have to be in the moment, knitting. Mindfulness defined. As a knitter I totally got it. Same with Zentangle®, drawing, painting, writing, playing music, etc. If you do any of these in earnest you know the head space you get into when you are really focused and in the zone.
In conjunction with Optimism Plus Center for Wellness and Healing courses, I am offering workshops in "Art as Mindfulness". Each workshop introduces you to Zentangle® and Drawing as Meditation. 
Join me in a journey of Mindfulness through creating.
— Linda Ann Johnston Reinhart
ART is a PART of your HeART
is a mindfulness program
that lets you explore Art in a safe and fun
environment, free of unkind and judging words.
Find the joy in Art as Meditation.
Schedule of Classes
Zentangle®
Please call to schedule
$35 per class, plus starter kit fee
Drawing as Meditation
Please call to schedule dates.
$70 for the two classes,
Materials list will be provided at registration
Trillium Colorwork
10 Overlook Drive
Wolfeboro, NH
03894